Auberge Tosayama
Surrounded by descending drops of greenery and clear flowing water,
our blissful "Auberge" offers the utmost in private space.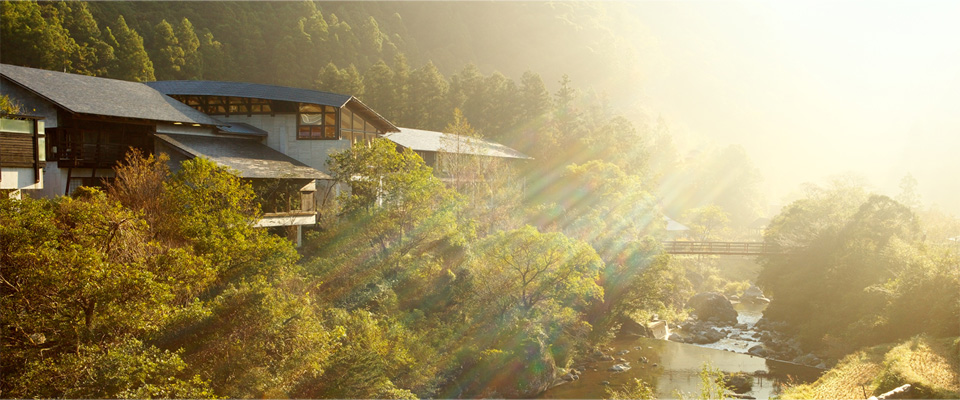 Have you heard of the auberge, conceived in France? It is not merely a place for lodging, but a setting in which to encounter extraordinary feasts, where one can bask in moments of contentment. Couched in lush green and clear flowing streams is the "Auberge Tosayama." We wish to welcome you with heavenly flavors and soothing spaces.
The setting for Auberge Tosayama is Tosayama, the inner sanctum of Kochi City, on the island of Shikoku. With a backdrop of Kenmin no Mori Mt. Kuishi, and blessed with the abundantly flowing headwaters of the Kagami River, this place is laden with the graces of nature. Escape the hustle and bustle in only 30 minutes. Since first opening its doors in this beautiful village, Auberge Tosayama has continued to walk forward with the surrounding area. It exists as a bridge builder, taking action at home together with the next generation, and sending that energy outward.

Villas
Across a red suspension bridge from the hotel, there they are, like a hideaway. The villas are the hotel's suite rooms. Great for enjoying a lively stay with close friends or family. Also perfect for immersing yourself in a peaceful, private rest for two. At the villa, you sleep whenever you want to. Enjoy the peerless freedom of aimless, open time, to your heart's content
Room Overview
Number of rooms: 4 Villas (Maximum capacity 6 people)
Facilities: Refrigerator, CD player,
Humidifier (winter season only)
Amenities: Yukata Robe, Pajamas, Slippers, Sandals, Shampoo,
Conditioner, Body Soap, Hair Dryer, Comb, Razor, Shower Cap,
Toothbrush
Hotel
Stretch out on the sofa, and you'll feel like you're at home, even though it's your first time here. From the deep silence one can hear the comforting sounds of nature. Disrobe from excess baggage and get only exactly what you what. The view outside the window seems to be dripping with green. Breathe with nature even while indoors, These 12 rooms are the pinnacle of kindness to the human heart.
Room Overview
Number of rooms: 12 twin rooms (Maximum capacity 3 people)
Facilities: Refrigerator, CD player,
Humidifier (winter season only)
Amenities: ukata Robe, Pajamas, Slippers, Sandals, Shampoo,
Conditioner, Body Soap, Hair Dryer, Comb, Razor, Shower Cap,
Toothbrush


Dining
It's possible that this is a very uncompromising restaurant. To be sure, we demand the finest quality ingredients every day, we are obsessed with their condition, and we can't bear to send out a dish that isn't exactly to our liking. Spring, summer, autumn, winter – we select only the freshest joys from the local area, and put them to best use. There is no luxury that can rival the moment of bliss brought about by such a dish.
Hours
Lunch: 11:30 - 15:00 (last order 14:00)
Dinner: By reservation only
Please tell us your preferred dinner time when you check in.


Hot Spring
Leave everything up to the natural hot spring, letting tension from your whole body melt away. The only thing to brush against your warm skin will be a gentle wind rustling through the trees. Immerse yourself in heartwarming delight, morning, noon or night. Soaking in a hot spring while taking in deeply satisfying views of vibrant green, autumn foliage, and the nature and seasons of Tosayama, is surely the real pleasure of travel.
Overview
Hotel guests: 6:00 – 9:30, 10:30 – 23:00 Entry is free
Day visitors: 10:30 – 20:30 (Entry until 20:00)
Bathing charge: Adults ¥800 Children ¥400
Facilities: Men's bath, women's bath, outdoor bath, sauna

Relaxation Spa
We deliver the finest relaxation and healing therapies directly to your room.
Reflexology
Soles of the feet to the knee: 40 minutes ¥5,000
We gently massage from the soles of the feet up to the knees, using oil and cream. Because we use the British style, no sticks or joints are used in the massage. Fatigue is easily removed by a pleasurably painful stimulus that prompts the removal of toxins. Improves swelling in the feet and legs from long travel or walking.
Seitai Bodywork
Full body: 60 minutes ¥7,000
Recommended for those will full-body fatigue, especially those with stiff shoulders or lower back pain. We massage pressure points and meridians of the body in alignment with your breath.
Treatment is carried out with the guest fully clothed.
Hawaiian Lomi Lomi Massage
Full body course: 60 minutes ¥10,000
Lomi lomi carries the spirit of aloha (love) and uses the fists and upper arms to rhythmically and gently massage the entire body. It loosens muscle stiffness, improves circulation and lymph flow, and adjusts metabolism and hormonal balance. Not only physical, it also has deep emotional healing effects by releasing mental tension and suppression of the spirit.
*By reservation only
We may not be able to accept appointments if reservations are full, etc. Interested guests should make reservations as early as possible.
For questions and information, please inquire at the front desk.

Arriving by plane (from Kochi Ryoma Airport)
1 hour 10 minutes by taxi
Using the free shuttle bus
35 minutes by taxi
50 minutes by airport bus
45 minutes to Kencho-mae bus stop, and 5 minutes on foot to Orient Hotel Kochi.
Free shuttle bus
Departs at 15:00 from Orient Hotel Kochi
Arrives at 15:30 at Auberge Tosayama
*Reservation only
Arriving by JR train to Kochi Station
40 minutes by taxi
7 minutes by taxi
Using the free shuttle bus
20 minutes by tram
Orient Hotel Kochi is directly in front of Grand Dori tram stop
Free shuttle bus
Departs at 15:00 from Orient Hotel Kochi
Arrives at 15:30 at Auberge Tosayama
*Reservation only